Signature SAP Connector
Alberto
2022-08-10T06:40:10+00:00

From INNOVAmee, we are committed to improving the processes of our clients, for this reason, we allied ourselves with Signaturit to facilitate the process of signing contracts with full legal certainty. In addition, we have created a connector through which you will have all the advantages of the digital signature fully integrated into your SAP ERP.
Thanks to the Signaturit platform you will have safe and legal trust services that will allow you to:
Close online sales immediately.
Reduce the resources dedicated to the management and monitoring of contracts.
Improve your environmental commitment by eliminating paper.
Signature SAP Connector
Through the plugin developed by INNOVAmee you can manage the signing of your documents through your SAP software, without having to move to other platforms. In the same panel, you can manage both the generation of the contract, as well as monitor it until its digital signature is made.
The plugin exists in 2 versions: Standard and Extended which allows further automation and customization. It is the ideal solution to improve your productivity and speed up your contract management processes, with the best user experience.
Versions
We have versions adapted to your requirements so that the integration is in accordance with your demands. Below you can see the characteristics of each modality: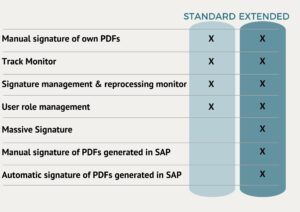 Examples
Using the standard option, you can sign a contract with a client, where you upload the PDF and sign without having to enter the SIGNATURIT platform.
The extended option is useful to automate the signing of documents (for example, SEPA, among other documents). You automate the sending of forms from SAP and if necessary later, you can manage/re-send any document again from the monitor.
Below you have different links with related information:
If you want to know more about this connector or how the digital signature can help improve your company's processes, do not hesitate to contact us. We will be happy to help you.
Send us a message


or by phone +34 930 409 993