Pipedrive
Kimberly
2023-06-30T11:36:08+00:00

Pipedrive is a CRM platform whose main objective is to manage the company's relationships with customers, to control sales and increase returns.
From INNOVAmee, we do not stop improving the way our customers work, therefore, we allied with Pipedrive, a leading platform in sales management, to be able to offer companies a complete software with which to interact with their customers.
Pipedrive has a wide variety of elements that facilitate and optimize the sales management of a company. The following are some of its main functions:
The sales funnel: it is a clear and simple way to visualize the status of the sales processes and the actions necessary to sell the product. In the same way, this function allows to highlight which element requires greater attention and the possibility of achieving the desired objective.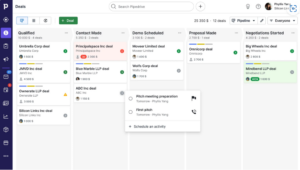 Email: Track conversations. The platform manages to connect emails to deals automatically, which allows you to visualize all aspects around a customer in one place.
Activities and contacts: control and assign the type of action or activity that needs to be performed. Some of the activities are calls, meetings, tasks, deadlines and reminders.
Reports and statistics: grants access to information, evolution and sales results, in order to evaluate the situation and make the appropriate decisions.
API: connection of use of already existing functions within other software. Let Pipedrive connect with other programs easily like Outlook or Asana.
Automation: Accelerates processes by automating tasks. Pipedrive automations consist of an activation event and an action event.
At INNOVAmee we are here to accompany you in your process within Pipedrive. We offer the best CRM for PYMEs as an added value to computer maintenance. Do not hesitate to contact us!
Send us a message


or by phone +34 930 409 993