Get to know Pipedrive better
A few months ago, at INNOVAmee we partnered with Pipedrive, the leading sales management platform, to be able to offer companies complete software with which to interact with their customers.
Within this software we find a multitude of tools that will help us in the day-to-day management of a company's sales.
How to use Pipedrive
Using the leading sales management platform is very simple, we explain how to in four steps:
Set up the stages of your funnel: The funnel is a visual representation of your sales process. You can customize this funnel and adapt it to your tastes to be able to do a good job. You will be able to view the status of the sales processes and the actions necessary to sell the product.
Focus on sales actions: This process is anything that moves your deals towards closure. It doesn't have to be done from Pipedrive, as it can be through an email, a call, a face-to-face meeting… Schedule a large number of activities and let Pipedrive remind you what to do next. This way we will be able to increase the sales of our company.
Track progress toward goals: With Pipedrive's real-time reporting, you'll know if you're doing it right and have time to adjust the process.
Optimize and grow: Pipedrive's simple analysis makes your sales process as accurate as possible. Automations perform tasks for you, saving you time.
You can now use Pipedrive! By following the four steps previously indicated, you will now be able to enjoy the software and the automations in the tasks. On the other hand, Pipedrive has numerous features that help you keep track of performance and processes.
Features within the software
Manage your sales: Thanks to Pipedrive automations, you will be able to sell 24 hours a day through your chatbot and personalized web form.
Communications Tracking: You can track calls and emails to have complete visibility and schedule meetings.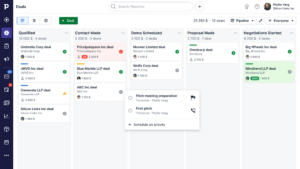 Automations: Automations perform administrative tasks for you, saving you time.
Reports: Through the reports that Pipedrive will provide you, you will be able to measure the performance of your company in relation to the established objectives.
Mobile applications: Access the software from anywhere and on any device, thanks to its mobile application.
This is not all because, in addition, Pipedrive has more than 350 integrations with other applications to expand capabilities. Some of these integrations are Gmail, Microsoft Teams, Asana…
If you have any questions about Pipedrive or its features, do not hesitate to contact INNOVAmee. Our team will help you and show you a demo of Pipedrive so you can see the advantages of this software. We also can help you with its implementation in your company!
The INNOVAmee Barcelona Digital Transformation team.