Discover the features of Holded
We recently explained that at INNOVAmee we are part of Holded's Solution Partner program, granting an exclusive space to our clients.
Holded is a leading ERP that offers SMEs and entrepreneurs complete software with which to manage the accounting and financing of the company. But do you know all the features of Holded?
Inventory management
Inventory management refers to the coordination of the entry, administration and exit of the materials that a business needs to carry out its activity.
Within this tool you can customize your products by establishing groups of variants with different options for agile and personalized management. In addition, you can control the entry and exit of goods using delivery notes and purchase or sale orders or create personalized logistics stages to control the status of your orders.
This inventory management is a perfect tool to calculate and adjust the production cost of a company's raw materials. In addition, it allows you to connect the inventory with other areas of the company and thus improve the different workflows of the same company.
Accounting
Thanks to this tool, you will be able to save time and peace of mind, since it automates your accounting processes. Holded updates your accounts instantly every time any type of transaction takes place in your company, knowing the balance of your company in real time or where each cent goes.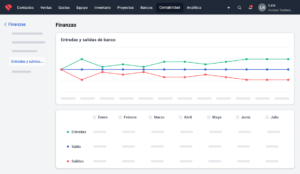 You will have all the information just a click away, as well as new features such as: tax models always ready, accounting for your assets automatically without having to add entries manually or easily importing and exporting your accounting.
Projects
From Holded you can manage projects in a professional way. You can group employees into the same task and establish the duration of the project.
We will be able to follow all projects in real time, having a global vision of the company's processes. In addition, we can configure notifications via email so as not to miss details of the progress that is being made.
Holded Integrity allows you to import all your data from Excel or another project management tool and pick up where you left off.
Billing
Another functionality within Holded is billing, where you can automate all aspects of your billing. You will be able to save time and security, creating invoices and estimates in seconds, automatically completing fields with your information.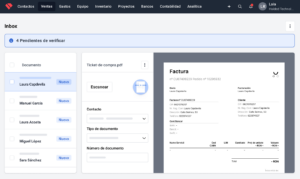 In addition, it allows the import of invoices previously made with Excel. In Holded you will work in a more intuitive way and without having to install anything.
CRM
CRM stands for Customer Relationship Management, and is the computer program used for the total management of all aspects related to your clients.
Thanks to Holded, you will be able to manage your sales opportunities, your resources and contact with your company's clients from a single platform.
RHH
Finally, with Holded you can centralize all your human resources on a single platform, from hiring to vacations.
Within the HR section we find numerous tools, such as: payroll management, absences, contracts or the calculation of hours worked.
If you have any questions about Holded or its features, do not hesitate to contact INNOVAmee. Our team will help you and show you a demo of Holded so you can see the advantages of digitizing your company. We also help you with its implementation in your company!
The INNOVAmee Barcelona Digital Transformation team.